Kirchner Claims Argentine Sovereignty
Over Falklands, 23 Years after War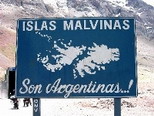 President Nestor Kirchner, marking 2 April 2005 the 23rd anniversary of the start of the
war with Britain over the Falklands
, said the disputed islands would eventually be ruled by Argentina through "dialogue and peace.", "I trust that the Malvinas will again become Argentina's, through dialogue and peace," said Kirchner. Kirchner said that recovery of the islands, which have been British-ruled since 1833, remains an "unrenounceable" goal of the Argentine people.(Terra.ar, April 3, 2005)

Argentina reiterates sovereignty
over Malvinas Islands
Kirchner stressed that his country haslegitimate sovereignty over the Malvinas Islands as they are part of its territory. "It is vital and fundamental that we remember the heroic combatto recover our islands," he said. The disputed islands, located in the southern Atlantic near theArgentine coast, were occupied by British forces in 1833. Argentina fought a
74-day war
with Britain in 1982 over the sovereignty of the archipelago,leaving 649 Argentine and 255 British soldiers dead. Britain later regained control of the islands. Also present at the ceremony were Argentine Vice President Daniel Osvaldo Scioli, Defense Minister Jose Pampuro, heads of thearmed forces and
veterans of the 74-day war
.
(Xinhuanet, April. 3, 2005)

UK admits nukes aboard Falkland ships
(Greenpeace, January. 4, 2004)
When the destroyer HMS Sheffield was sunk during the war between the UK and Argentina over the Falklands-Malvinas islands, the UK Ministry of Defence refused to admit there were nuclear weapons aboard any of the ships in the conflict. As a part of the nukewatch network, we knew otherwise.