BRIC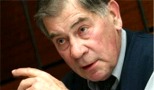 U.S. Using
Anti-Terror War
to Gain World Oil Reserves
- Soviet Intelligence Chief

On the pretext of fighting international terrorism the United States is trying to establish control over the world's richest oil reserves,
Leonid Shebarshin
, ex-chief of the Soviet Foreign Intelligence Service, who heads the Russian National Economic Security Service consulting company, said in an interview for the
Vremya Novostei
newspaper.
(MosNews, March, 21, 2005)

You did not notice but the third world war started – it is the fight for dominance in oil and trade
Al-Qaeda
understood the new war on oil and trade very late. The traditional terrorism is not going to take them anywhere. They are now planning to attack Middle Eastern oil installations, destabilize Governments in Saudi Arabia and Kuwait, and create
insurgency in Iraq
. Soon they will realize that they have little power and the world has put them in a corner with little significance any further.
The third world war is being fought on oil and trade. China, Russia and India understand now the oil game.
Brazil
and China both are focusing on
Venezuelan oil
. American are securing Middle Eastern oil supply and ensuring on their traditional oil infrastructure. But the coming fight for oil and trade will be fierce as India and China becomes more oil hungry. (By Balaji Reddy, India Daily, Jan. 10, 2005)

China, US Discuss
Setting Up Defense Hotline
Chinese Defense Ministry and its US counterpart rounded off their first special policy dialogue here Tuesday with both voicing their satisfactions, a sign of warming ties between two militaries of the two countries.
The two-day closed-door talk covered a wide range of issues, including the Taiwan issue, maritime military security and exchange programs in 2005, said a Chinese military spokesman Tu Qiming, who is in charge of the American and Oceanian affairs in the Foreign Affairs Office (FAO) under the Chinese Defense Ministry. (Spacedaily, Feb 01, 2005)

Brazilian Military Team
Attends Russian Space Launch
Military experts from Brazil visited the Russian launch site at Baikonur and witnessed the launch of a space cargo rocket as part of plans by the two countries to develop cooperation in the manufacture and launch of space vehicles, ITAR-TASS news agency reported. (AFP, Mar 2, 2005)

Dreaming with BRICs:
The Path to 2050
Over the next 50 years, Brazil, Russia, India and China — the BRICs economies — could become a much larger force in the world economy... If things go right, in less than 40 years, the BRICs economies together could be larger than the G6 in US dollar terms. By 2025 they could account for over half the size of the G6. Of the current G6, only the US and Japan may be among the six largest economies in US dollar terms in 2050. (The Economist, Jan. 30, 2005) by Dominic Wilson, Roopa Purushothaman, Goldman Sachs Global Economics Paper No.99,
October 2003.


Watch Out for the BRICs
Will Brazil, Russia, India, China Be Superpower?

Economic might and military power therefore go hand in hand, and a tilting of the balance will, sooner or later, lead to a shift in the relative influence of nations. Seen in that light, you will be interested in a new study by a team of economists and planners at Goldman Sachs, called "Dreaming with BRICs: The Path to 2050." The BRICs — a new acronym in world affairs jargon — refers to
Brazil
, Russia, India, and China. They are large in territory and resources, they are populous, and, says the Goldman Sachs team, they are on their way up economically.
The Seoul Times (Jan. 31, 2005)

Putin leads BRIC alliance and plays
oil trump card -- some Russian Yukos
oil assets for China and India





Russian President Putin has nationalized the Yukos oil company – the largest oil producer of Russia. It is evident that the West and BRIC will confront each other during the next ten years on energy. As Russia is pushed back by the Western nations especially America, Putin leads the BRIC alliance and plays the oil trump card. All said and done, the world is already fighting a cold war on crude oil. As China, India and Brazil, their oil appetite will make them glued to Russia and each other. Venezuela well influenced by Brazil will provide additional oil assets to BRIC.
(India Daily, Jan. 4, 2005)

Venezuelan Oil war between China and the West
– Chavez gives China free access to oil resources
(India Daily, Dec. 29, 2004)

Europe's dilemma – has to choose between America and China (or BRIC in the long term)
There are economic reasons behind it. After all China and India will be the primary economic forces in the next thirty years. Add to that Brazil and Russia, you have a solid math game for making decisions. Chinese currently want European and American know how on advanced arms. EU recently leaned towards lifting the arm embargo that can help China receive the badly needed high tech arms know-how. This is obviously not acceptable to America. Pentagon came out and challenged this decision to help China in high tech arms.
In the long run, the BRIC nations (Brazil, Russia, China and India) will form a block and deal with Europe as a group. America has to be concerned about the arms technology getting passed on to BRIC alliance. For now the problem is smaller, how to satisfy the economic giant China while not creating any further problems with America. The Pentagon is increasing pressure on European allies over weapons sales to China, warning that lifting the European Union arms embargo on Beijing could lead to a curtailment of military technology.
(By Kanan Kranti, India Daily, Dec. 25, 2004)

President of Peru to sign military
cooperation agreement with Russia
RIA Novosti (Dec. 22, 2004)



Moscow Looks At The World
Putin's visit to
Brazil
had more to do with his ambition to restore Russia's status in the global arena than with just boosting trade.
(Analysis by Victor Yasmann RFE/RL, Dec. 14, 2004)


China, Latin America:
Boosting economic ties
(
Monday Morning
, Lebanon, Dec 2, 2004)

Spain would help pushforward the relations between China and Latin American countries
Xinhua (Nov. 29, 2004)

China's Encroachment
on America's Backyard
Asia Media, Nov. 26, 2004

China's increasing influence
in the Latin-America
(Nov. 25, 2004)
President Hu Jintao's visit to Brazil, Argentina, Chile and Cuba
was of great importance, which is also the first state visit to the four Latin American countries by the new top leader of the Chinese Government. It marks a new milestone in the history of China-Latin America friendship. The visit yielded plentiful and substantial fruits in the exchanges in various fields such as politics, economy, culture, education, and technology. In total 39 documents for cooperation were signed. PR China Ministry of Foreign Affairs, Press conference

It's the Crude, Dude:
War, Big Oil, and
the Fight for the Planet
Webcast of the 27 October 2004 book by Linda McQuaig launch in Vancouver
Michael Moore
rakes America's corporate villains over the coals.
Noam Chomsky
flays the United States for the hypocrisy of its global adventurism. Now comes
Linda McQuaig
, whose incendiary new book tells us how the world's most powerful industry and history's most lethal army are having their way with the planet. (RT: 70 minutes approx. in segments)

The BRICs Are Coming--Fast
A Goldman economist talks about
rapid growth in Brazil, Russia, India, and China





The main requirements are sound macroeconomic policies, reasonably open trade and domestic policies, relatively stable political systems, and political transitions that don't disrupt the growth process. If you compare the growth tracks that we're predicting [for the BRICs] to the growth Asia's "tiger" economies have achieved, we're not asking for them to be miracle economies.
(Business Week, Oct. 27, 2003)

Bric by bric --
How the world will change





Dreaming With Bric's: 'The Path to 2050' is the title of an excellent economic research paper released by Goldman Sachs in the first week of October. The study cross checks the results in three different ways, and even applies the same methodology to data beginning in 1960, to test how economic projections made then would have compared with subsequent reality over the 1960-2000 period... All the checks seem to conform with the broad results. (Rediff, Oct. 16, 2003)

Economic Agenda: Get ready –
the BRICs are rebuilding the world





Based on the projected patterns for growth, incomes, currency movements, and population, even by 2025 — little more than two decades away — the BRICs could account for half the size of the G6, compared with just 15 per cent now. Over five decades, two-thirds of the estimated increase in the BRICs' GDP comes from higher real growth, with one third flowing from an eventual threefold rise in the four nations' real exchange rates reflecting their emergence as big economic players.
Even the US is set to be overhauled by China by 2040. Britain's economy is set to become smaller than China's within just a few years. India will be a bigger economic power than Italy by 2015, and bigger than Japan by around 2030. By the same year, Russia is set to overtake Germany, and Brazil will outstrip France. (
Gary Duncan
, The Times, Oct. 6, 2003)