Al-Qaida No. 2 Ayman al-Zawahri says
al-Zarqawi was a soldier and prince of martyrs
Mainichi-MSN, June 24, 2006
Cairo, Egypt -- Al-Qaida's No. 2 leader paid tribute to the slain Abu Musab al-Zarqawi in a video Friday, extolling him as "the prince of martyrs" despite the rocky relationship that the terrorist leader in Iraq had with the al-Qaida command.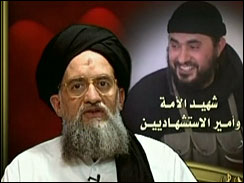 The video, aired on the Qatari-based TV channel Al-Jazeera, was the first acknowledgment by al-Qaida's central leadership of the death of al-Zarqawi, who was killed in a U.S. airstrike northeast of Baghdad on June 7.
The clip showed al-Qaida's deputy leader Ayman al-Zawahri, wearing a white robe and black turban, speaking to the camera with a picture of a smiling al-Zarqawi over his left shoulder.
Al-Zarqawi was "a soldier, a hero, an imam (Islamic cleric) and the prince of martyrs," al-Zawahri said.
His death would not set back the insurgency in Iraq, he said. In fact "the death of al-Zarqawi has defined the struggle between the crusaders and Islam in Iraq."
Al-Zawahri did not mention the successor to al-Zarqawi, which al-Qaida in Iraq has named as Abu Hamza al-Muhajer. The omission might mean the tape was recorded before the successor was chosen, or it might indicate that al-Zawahri does not endorse the new leader.
The tape was the second al-Zawahri video to appear in two days and his seventh this year. But Thursday's video, which was posted on an Islamic Web site, did not mention al-Zarqawi's death and seemed to have been recorded before.
In Washington, a counterterrorism official said U.S. intelligence experts were reviewing the tape to determine its authenticity, but there was no reason to doubt that it was al-Zawahri.
Al-Zawahri, who is believed to be hiding in the mountains on the Pakistani-Afghan border, used the tape to deliver one of his customary attacks on the United States and President George W. Bush.
"Listen you, Bush, not one of us is killed without us taking revenge for his death, god willing," al-Zawahri said.
Addressing Americans, he said: "You are not facing individuals but the whole of the Muslim nation."
"America will not (sleep) dream in security until security has become a reality in Palestine and the other Muslim countries," al-Zawahri said.
"Tell me," he asked Americans, "how many of your people have been killed? How much your economy has lost, and how much has the morale of your soldiers collapsed?"
He attacked the U.S. ambassador to Baghdad, Zalmay Khalilzad, who was born in Afghanistan.
Khalilzad is "an Afghani renegade who has abandoned his religion, emigrated to America and bowed at the feet of the Zionists," al-Zawahri said.
He also attacked Iraqi Prime Minister Nouri al-Maliki, accusing him of betraying the Islamic principles of his Dawa party.
"Nouri al-Maliki, who has been selling out Islam to reach the chair of power, collaborated with the crusader invaders before and after the invasion (of Iraq)," al-Zawahri said. "After the invasion, he abandoned Islamic law, prevented the implementation of Islamic rule, and fought the mujahedeen under the banner of the crusader Bush."
Al-Zawahri and his colleagues had clearly taken pains to make the video into a homage to al-Zarqawi. Normally al-Zawahri normally appears on video against a plain background with no feature other than an automatic rifle.
In Friday's tape, however, the background was an elaborate affair: a mournful mixture of blacks and dark reds, dominated by the photo of al-Zarqawi, and two dull gold columns. Whereas al-Zarqawi photographs often show a stern, if not threatening face, the picture chosen for the video showed a happy, a likable person, who was probably laughing at a joke. Just a glimpse of al-Zawahri's rifle was visible at the extreme left of the background.
During his leadership of al-Qaida's Iraqi branch, al-Zarqawi swore allegiance to Osama bin Laden, the network's overall leader, but often had tense relations with him and al-Zawahri.
In July 2005, al-Zawahri reportedly wrote a letter to al-Zarqawi criticizing his attacks on Iraqi Shiite mosques and civilians, saying they hurt the mujahedeen's image. The al-Qaida deputy also asked al-Zarqawi for money, according to the U.S. military, which said it intercepted the message.
Al-Zarqawi apparently brushed off the criticism as he continued to attack Shiites, a strategy intended to spark a Sunni-Shiite civil war.
Al-Zawahri's reported request for money suggests that funds were flowing more readily to al-Zarqawi than to the al-Qaida command. The money probably came from supporters in Saudi Arabia and the Gulf, where many of al-Zarqawi's fighters came from.
With his spectacular bomb attacks, al-Zarqawi vaulted to a hero's status among Islamic extremists across the world, stealing the spotlight from bin Laden.
In 2005 bin Laden vanished from the public eye, issuing not a single audio or videotape, but al-Zarqawi's group frequently put out messages. He portrayed himself as al-Qaida's fighter on the hottest front of "jihad" or holy war.
The tension between al-Zarqawi and al-Qaida's command appears to have faded by early 2006 because this year al-Zawahri issued two videotapes in which he effusively praised al-Zarqawi. The second one appeared a day after the militant's death, but it had been recorded beforehand. (AP)
Mujahideen Shura Council Statement On the Martyrdom Of Sheikh Zarqawi
June 60, 2006
Footage Of The Al Zarqawi Bomb Site
June 10, 2006

Al-Zarqawi Death: Myth vs. Reality
by Ramzy Baroud, June 21, 2006

Autopsy: Zarqawi died of blast wounds
AFP, Aljazeera, June 12, 2006

Anatomy of a Lie: The Zarqawi Psy-Ops,
and an opportune death
DelicateMonster, Daily Kos, June 10, 2006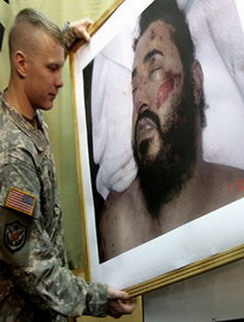 The Zarqawi Show - A Pantomime For Children Of All Ages
by Joe Quinn, Signs of the Times, June 10, 2006

Iraqi raises questions about al-Zarqawi death:
Man says U.S. troops beat man resembling terrorist
after bombing; Blood cleaned off
MSNBC, June 10, 2006

Iraqi witness: U.S. troops may have beaten wounded al-Zarqawi before he died
by Patrick Quin, 570News,
June 10, 2006

Obituary: Abu Musab al-Zarqawi
by Lawrence Joffe, Guardian Unlimited, June 9, 2006

Al-Qaida No. 2 Praises Al-Zarqawi in Tape
by Maggie Michael, AP Writer, June 9, 2006

Al-Zarqawi too violent even for bin Laden
by Aileen McCabe, CanWest News Service, June 9, 2006

Killing al-Zarqawi: End of a Pentagon-Dairat al-Mukhabarat Collaboration?
by Kurt Nimmo, June 8, 2006

Pentagon PSYOP: "Terror Mastermind" Abu Musab Al Zarqawi is "Incompetent"
by Michel Chossudovsky, May 15, 2006

Al-Zarqawi Video Is A Pentagon Propaganda Psy-Op
by Paul Joseph Watson, Prison Planet.com, April 27 2006

Who is behind "Al Qaeda in Iraq"? Pentagon acknowledges fabricating a "Zarqawi Legend"
by Michel Chossudovsky, April 18, 2006