Satellite View of Spy Plane at Lingshui Military Airfield
This one-meter resolution, color satellite image (left) of the Lingshui military airfield on the southeastern coast of Hainan Island in the South China Sea, was collected at 10:12 a.m. local time on April 4, 2001 (10:12 p.m. EDT on April 3, 2001) by Space Imaging's IKONOS satellite. The United States Navy aircraft is visible and parked on a taxiway (north is up in this photo). This is the first high-resolution commercial satellite image taken of the Lingshui airfield. IKONOS travels 423 miles above the Earth's surface at a speed of 16,000 miles per hour.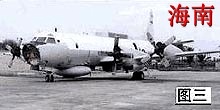 The U.S. Navy Combat Reconnaissance One
EP3-E plane at Lingshui military airfield.