Soviet - Afghan War 1979 -1989

Chronicle of Events in Afghanistan 1990 - 1996
Afghanistan's Talibans

Iran masses troops on border,
warns Afghanistan to free hostages
Charlotte Observer Online, Sep-05-98


The Movement of Taliban
Interview with the Ameer ul M'umineen Who are Taliban ? & their Goal The dynamic address of Mulla Ameer Khan Muttaqi What is the Shara'ee Status of the Taliban? [DEAD LINK]


Afghan Women Oppressed under Taliban Rule
Morehouse College paper


Taliban Regim in Afghanistan
In Kabul, the government of Rabani insisted that Pakistan interface in inside Afghan affairs and closely support Taliban militia. By September 1996, Rabani government with his defense minister Ahmad Shah Masoud left Kabul without any resistance and Taliban Militia captured the power of Kabul and established more strict Islamic rules in Afghanistan. [DEAD LINK]


The Power of Culture - The Taliban Page [PAGE REMOVED FROM SERVER]


Taliban: A Perfect Islamic Society
By Keerthi Reddy


On July 16, 1998, the maggot ridden naked corpse of a woman caked with old blood was found in a ravaged back alley of Khairkhana, Kabul in Afghanistan. After hours of investigation, the post mortem revealed that the corpse belonged to a young woman named Shukria, the daughter of Ali Mardan . . .
The Taliban is comprised of Pakistanis and Afghanis who are considered the true "Mujahideen" or "holy warriors of Allah" because they have established a purely Islamic state which rigidly conforms to the "pious Muslim ideals" which were outlined and set down by Prophet Mohammed. (Sword of Truth, Issue# 1999.36 September 4th, 1999)

ALLAH'S LAW ON ; ALLAH'S EARTH Islam Jihad Muslim World Afghanistan Taliban News Languages [DEAD LINK]


War News - Taliban Online [DEAD LINK]


Afghan rebels retreat, Taliban claims
KABUL, Afghanistan (AP) - Afghanistan's Taliban army claimed Tuesday to have captured a strategic mountain village, pushing opposition forces from the outskirts of Kabul. The Taliban army has seized the Afghan capital, Kabul, and two-thirds of Afghanistan in its bid to impose a strict Islamic regime over all the country. [PAGE REMOVED FROM SERVER]


Shockwaves from Moscow to Tehran,


Taleban press on (BBC)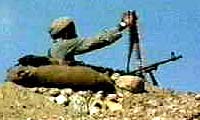 Taliban fighters capture air base
Electronic Telegraph


The Taliban Home Page

Afghan News

The Taliban: The sword of Afghanistan
Detroit Free Press (1996)



Taliban lose northern city
Residents in Mazar-e-Sharif balked when the Taliban issued its usual edicts: Women must wear veils, and cannot work outside the home or interact with men who are not their relatives. But after a night of fierce rocket and small-arms fire, Taliban soldiers fled the city Wednesday in jeeps and pickup trucks.


Feminist Majority Foundation
Stop Gender Apartheid in Afghanistan - Help Restore Women's Rights!


Take Action! Women have restricted access to medical treatment because they can only be treated by female doctors whose access to work is restricted. 5-04-98: Afghan Talks "Suspended Indefinitely;" Fighting May Resume.


Worried neighbors send arms, money to halt Taliban

The taking of Kabul
The taking of Kabul by the Taliban militia on 17 September
was the main event of 1996 in Afghanistan.


Yahoo! Full Coverage - Afghanistan's Taliban

Interactive Central Asia Resource Project - Afghanistan