Iran and
BRIC Alliance

Iran is about to join the coalition
The footprint of Russia and China on South America has begun. On November 10, Russia took the lead role in coalition with China, India and Brazil to challenge the super-power supremacy of the US. Brazil and Venezuela are very open to the coalition concept where these large countries support each other in terms of trade, economics, international politics and defense. This coalition is composed of 75% of the world's population and 80% of its natural resources. Iran is about to join the coalition due to their US$200 billion energy deal with China. (VHeadline News, Dec. 30, 2004)



Chavez seeks Iran economic ties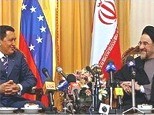 The presidents of two leading oil producing nations, Iran and Venezuela, are due to
meet to discuss closer economic co-operation. Hugo Chavez and Mohammad Khatami are expected to sign a number of energy deals during President Khatami's three-day visit to Caracas. (BBC, Mar 10, 2005)

Venezuela seeking industrial ties with Iran
A Venezuelan delegation headed by Popular Economy Minister Elias Jaua visited several industrial units in Khorasan Razavi province.
(IranMania.com, Dec. 23, 2004)



China's CNPC, Iran's NISOC
mull oil cooperation
Senior directors of Chinese National Petroleum Company (CNPC) and the National Iranian South Oil Company (NISOC) discussed cooperation in oil projects. The Chinese delegation is visiting south oil regions within frame of agreements reached between Iranian minister of petroleum and high-ranking Chinese officials. During the meeting, Nosratollah Espiari, managing director of NISOC, noted that there are cooperation grounds between the two companies. Xu Dakum referred to activities of CNPC in such countries as Kazakhstan, Sudan, Libya, Venezuela and Pakistan and noted that the company is operating 1,000 drilling rigs. (IranMania.com, Mar. 11, 2005)

The myth of an Israeli strike on Iran
(Asia Times, Apr 7, 2005)

Iran Nuclear Resources
(Pars Times)

US commander warns Iran nukes
may invite attack by "other regional power"
General John Abizaid, head of the US Central Command, told members of Congress he was surprised the Iranian military had not given more thought to the strategic consequences of acquiring nuclear weapons. "You have to ask the question whether or not achieving a nuclear weapon doesn't invite attack by one of the regional powers," he said. (AFP, Mar 2, 2005)

Vice President Dick Cheney fears
Israel might strike Iran
Cheney expressed concern that Israel might strike Iran to take out its incipient nuclear capacity. (MSNBC, Jan 20, 2005)

Iran Says It Has Military Might to Deter Attack
(Reuters, Jan 18, 2005)

Iranian commander says 190,000 US troops
a target if Iran attacked
The head of Iran's powerful Revolutionary Guards has warned that 190,000 US troops scattered in Afghanistan and Iran close to the Islamic republic could be targetted if Iran were attacked. (AFP, Mar. 2, 2005)