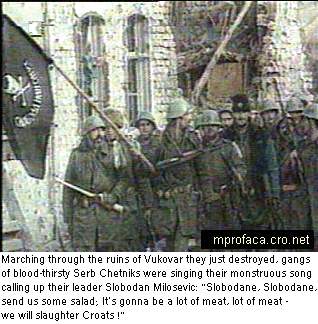 Slobodane, Slobodane,
šalji nam salate;
bi'će mesa, bi'će mesa
- klat ćemo Hrvate! ...

Those were the words of the song Serb Chetniks were singing, marching under the black flag with a big white skull on it, through destroyed Croatian town Vukovar in autumn of 1991, a scene taken by BBC reporter. Croatian comunity in Great Britain protested to BBC TV why those words, heard so clearly and loudly, were not translated for English audience. In that piece showed on BBC TVafter that, BBC blacked out the tone of mentioned song instead...
The first version with the tone and clearly recognised words of Serbian song was shown on NTV and CNN, but also not translated in English.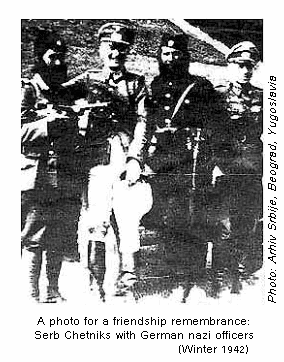 Just for the history, there is a Serbian Memorial Home Spomen Dom "Ravna Gora" on the right side of the highway Merrillville to Schererville, Indiana, USA, where visitors could see that black flag any time.

Somebody might take it to the War Crimes Tribunal in Den Haag, Netherlands...

See also:
ABCNEWS.com Bio:


Slobodan Milošević


Les heros de Vukovar
(Augustin Vidović's Page)


Slobodan Milošević
The New York Times, April 1995


Slobodan Milošević,
Dayton