OFFICE OF THE PRESIDENT
Stjepan Mesić personally disclosed that he was ICTY protected witness and also confirmed the authenticity of published transcripts of his "secret" testimonials



Transkript video snimke dijela redovite konferencije za novinare predsjednika Stjepana Mesića objavljene 28. studenoga 2000. u Dnevniku Hrvatske televizijePitanje: "Gospodine predsjedniče, ovih dana Slobodna Dalmacija objavljuje transkripte o vašim svjedočenjima u Haagu; Zanima me
jesu li ti transkripti autentični?

Jučer ste rekli, u emisiji

"S predsjednikom uz kavu", da znate otkuda njima ti transkripti; Možete li sad reći otkud Slobodnoj Dalmaciji transkripti iz Haaga?"

Predsjednik Mesić:

"Pa to su ... ja objaviti i mislim da neće biti nikakvih enigmi u tom smislu. Ne mo... danas ne, ali, što se tiče tih članaka, dva sam vidio, doduše, ovako dijagonalno, nisam posebno obraćao pažnju,

mislim da se dosta slažu s onim što sam ja govorio

. Ne znam što će biti u naredna dva. Ali, javnost će saznati kako su transkripti došli... došli u javnost. Naime,

ja sam bio zaštićeni svjedok

i to nije moglo izlaziti u javnost. Kao što znate

bio je zaštićeni svjedok i... i general Petković

; Niti njegovo svjedočenje ne može izlaziti u javnost. Ali, ja sam bio pozvan od haškog tribunala i na njihov poziv sam... jasno, za to sam imao podlogu hrvatskog Ustavnog zakona o suradnji sa haškim tribunalom. Međutim, priče onih koji su govorili kako sam na svoj, izričiti zahtjev išao u Hag...

- pa gdje to sud prima nekoga na njegov... na njegov poziv! Dobro... ali, svatko ima pravo i na... i na grešku."

NO HARM DONE
Stjepan Mesić: The disclosure wasn't noxious for me, it suits me

The case of journalists indicted by ICTY for disclosing the ID of an protected witness and publishing the transcript of his "secret" testimonial is primarily based on court's presumption that the disclosure would endanger "protected witness". But, interestingly, Stjepan Mesic personally disclosed that he was ICTY protected witness and also confirmed the authenticity of transcripts of his "secret" testimonials published in "Slobodna Dalmacija" (2000) even two years before now indicted journalists did it 2004. when it was already well known he was famous "protected (secret) witness B-1230" and he already publicly authorized published "secret" testimony transcripts.

What's more, at his press conference (Nov. 28, 2000) Stjepan Mesic told journalists: »I o tome sam govorio, no Slobodna Dalmacija nece pokazati moje svjedocenje protiv Dokmanovica, ali iznosi nešto što meni na kraju, ne da mi šteti, nego mi cak i odgovara, ali pod uvjetom da ne budu falsificirali stvari. Falsificiranje ne mogu ja sprijeciti, to može jedino Haag«. [

"... it (testimony transcripts publishing) wasn't noxious for me, it suits me, on condition that they (journalists) don't falsify things"

].

And indeed, now indicted journalists didn't falsify anything; They published original transcript of the testimony he authorized as his own one.

Related storiesMesić: U Haagu sam svjedočio samo jednom i to kao zaštićeni svjedok

(Mesić: In the Hague I have witnessed only once and I was protected witness) Vjesnik, 28. 11. 2000.

Mesić: Transkripti u »Slobodnoj Dalmaciji« su autentični

(Mesić: Transcripts published in Slobodna Dalmacija were authentic)

Vjesnik, 29. 11. 2000.

Despite Ban Croatian Paper Continues to Publish Transcripts of President Mesic's Affidavit

The Croatian government, on the other hand, claims it does not know how the paper got hold of the affidavit.

Croatian Redio Television - HRT,

Morning News, 7. 12. 2000.

Anto Nobilo o haškom svjedočenju hrvatskog predsjednika:
Mesić bi trebao skinuti tajnost
sa svog iskaza

(

Atorney Anto Nobilo: Mesic should
ask ICTY to unclasify his affidavit

)

HINA, "Slobodna Dalmacija, 5. 12. 2000.

ICTY indicts journalists
by Dr. Jerry Blaskovich

European Foundation Intelligence Digest Issue No. 215, (12th May, 2005)

Croatian Radio
S Predsjednikom uz kavu:
"Ja nisam tajno svjedočio.
Ja sam bio zaštićeni svjedok."
"I wasn't a secret witness.
I was the protected witness."

President Stjepan Mesic's
official web site, May 23. 2005
Two Indictments for Contempt Against Croatian Journalists Confirmed

ICTY, Press Release,

September 12. 2005

Blaskic to be retried due to
questionable documents
from the Police Ministry

Nacional, September 20, 2005

Bolton and the Balkan tribunal

By Jeffrey T. Kuhner

Washington Times, June 19, 2005

The Hague Tribunal
Recent Developments
and Way Ahead

U.S. Institute of Peace,

Tuesday, June 14, 2005


U.N. Court Seeks Arrest
of Croatian Journalist

Sunday, October 2, 2005

UN Prosecutor's Double Standards

By Brian Gallagher, Oct. 5, 2005

They may be afraid to name names,
but I'm not

Oct. 15, 2005

By William John Hagan

For more news ICTY
and Croatian media

Who disclosed the identity
of the ICTY protected witnessa long time before it was just repeated
by now indicted Croatian journalistsCHRONOLOGY

June 6, 1997: Published by ICTY itself


Decision of Trial Chamber I on request
of the prosecutor of 12 and 14 May 1997
in respect of the protection of witnesses
Decision of: 6 June 1997


On September 20, 2005, this document
http://www.un.org/icty/blaskic/...
was removed from the U.N.
/
ICTY official web site,
after I pointed out that it was the ICTY itself who disclosed publicly, even on Internet, the identity of its so called "secret" witness.
But anyway, after it was available at above cited address (URL) for more than eight years, now you can still find it on Internet in
Google's cache

HERE
as retrieved on 8 Sep 2005 03:53:00 GMT.

Latest news: Since September 22, 2005 the original web page is available again at its original URL of the official U.N. / ICTY web site
. Obviously, after I published this note (above) to

JUSTWATCH-L
, some "
amicus curiae
" gave a tip to ICTY suggesting that removing it after more than eight years would be a nonsense.
1.
On 12 May 1997, the Prosecutor submitted to the Trial Chamber a "Request for in camera hearing and for additional protective measures in respect of the identities of witnesses and the statements provided to the Defence" (hereinafter the "Request of 12 May 1997"). On 14 May 1997, the Prosecutor filed a second Request "for an emergency stay of execution in respect of the production of witness identities and witness statements" (hereinafter the "Request of 14 May 1997). General Blaskic's defence counsel (hereinafter "the Defence") in a consolidated opposition dated 16 May 1997 (hereinafter "the Response") responded to the requests. The Trial Chamber heard the parties at a hearing on 23 May 1997.
The Trial Chamber will first analyse the arguments of the parties and then discuss all the contested points of fact and law.
I. Analysis of the arguments and claims of the parties
2.
Further to
the disclosure on 9 May 1997 of Mr. Stipe Mesic's testimony in two Croatian newspapers - the "Vecernji List" the "Vjesnik"
, in a request dated 12 May 1997, the Prosecutor requested that the Judges of Trial Chamber I adopt a set of additional protective measures in respect of the identity of the witnesses and the statements disclosed to the Defence."
[...]
A. The Examination
[...]
7.
As regards the disclosure of the identity and statement of the witness Stipe Mesic to two Croatian newspapers, the Trial Chamber notes that the said witness was not covered by any protective measures insofar as no request was made that he be covered and no decision granting such request was ever issued.
In this respect, the Judges point out that the terms of

the Decision of 2 October 1996 regarding witness protection did not apply to him since the Decision was directed only at persons residing in central Bosnia
.
Furthermore,
the Judges state that it would be extremely difficult to determine who is responsible for such disclosure
.
The Trial Chamber considers finally that the start of the trial should not be further postponed.
The conclusion of the Trial Chamber is that conducting an examination into the circumstances under which the identity and statement of the witness Stipe Mesic were disclosed would therefore be inappropriate and consequently rejects this request
. [...]
10.
In respect of the further measures which the Prosecutor has requested,
because of the disclosure and publication to the Croatian press of Mr. Mesic's statement and because of the general conditions currently prevailing in the territory of the former Yugoslavia
, the Trial Chamber is extremely concerned about the security of the witnesses who may be called to make a statement before it during the trial.
It therefore deems that
the accused, his counsels and their representatives must not disclose to the public or to the media the name of the witnesses from certain areas of the former Yugoslavia or any information which might make it possible to identify them, unless this is absolutely necessary for preparing the defence
.
The Trial Chamber also considers that additional measures must be implemented by both parties in order to guarantee satisfactory protection of the witnesses. [...]

February 11, 2000: Voice of America



Croatia/Tribunal Relations
Croatian President-elect Stipe Mesic is defining himself as much by who he is as by who he is not: namely the late President Franjo Tudjman. Unlike the often stiff and formal Mr. Tudjman, Mr. Mesic is casual and accessible. Whereas Mr. Tudjman was autocratic and nationalistic, Mr. Mesic says he will be democratic and European. And while Mr. Tudjman increasingly refused to cooperate with the War Crimes Tribunal, President-elect Mesic not only says he agrees with the Tribunal's work, but he has personally supported it in the past - as a witness.
Two years ago, Stipe Mesic became the only high- ranking Croat to testify for the prosecution. He did so in two Tribunal cases, one of them against a Bosnian Croat general. He now says he wants once again to tell what he knows - this time against Yugoslav President Slobodan Milosevic, who has been indicted for war crimes. Deputy Prosecutor, Graham Blewitt, says he is looking forward to working with Mr. Mesic: "He was very cooperative.
And at that time, he indicated he was prepared to do anything he could to cooperate with the Tribunal and to assist our work because he believed that it was essential in bringing long-term peace to the region. So, the fact that he is now the President of Croatia, and because of our previous relationship with him, we find that extremely encouraging. I think our relationship with Croatia will do a complete 180 degree turn now."
Tribunal interpreters Vladimir Loyen and Nenad Popovic
say a Croatian term -- Haski Svjedok -- which means "Hague witness" may be losing the negative connotations it had when the Croatian media used it against the new president-elect.
Loyen: So that's why we feel weird, because two months ago we were bordering on being enemies of the state and now we may even be heading for the heroes of the state. Popovic (overlaps): Yeah, we have become with him, with Haski Svjedok becoming the president we're also like heroes and the avant guards of the new Croatian outlook.
Prosecutors have yet to meet with President-elect Mesic and test how that new Croatian outlook translates into cooperation. They say they will give the new government time to settle in and become familiar with the issues before doing so. But by April, they say they expect some very productive high- level meetings.
Source:
Croatia/Tribunal Relations, Voice of America - VOA
, February 11, 2000


September 16-21, 2002,
Published by IWPR
Institute for War & Peace ReportingAnalysis: New Phase in Milosevic Trial

The prosecution sets out to try and prove that Milosevic was responsible for Serb atrocities in Croatia and Bosnia.
By
Mirko Klarin
in The Hague (TU No.281, 16-21 Sep. 2002)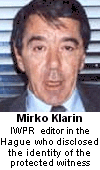 The Milosevic trial, yesterday, September 26, enters a new phase with the prosecution attempting to establish a connection between the defendant and war crimes committed in Croatia and Bosnia in the first half of the 1990s.
[...]
The prosecutor's pre-trial brief conceals the witnesses' identity through code-names. So far only one code-name can be "deciphered" with confidence. Witness B-1230 must be the Croatian president, Stipe Mesic, as this witness will tell the court how he organised the secret meeting between Milosevic and then Croatian president Franjo Tudjman on March 25, 1991 at which they agreed on a division of Bosnia.
Mesic has already publicly testified about these events in the trial of the Serbian mayor of Vukovar, Slavko Dokmanovic, and in closed session in the trial of Croatian general Tihomir Blaskic, for crimes committed in central Bosnia.
[...]

Mirko Klarin
is IWPR senior editor at the war crimes tribunal and editor-in-chief of SENSE News Agency.


June 23-27, 2003,
Published by IWPR
Institute for War & Peace ReportingControversy Over Document Leak Resurfaces

Evidence cited in Milosevic trial raises issues about who leaked Croatian president Mesic's secret testimony.
By
Emir Suljagic
in The Hague (TU 318, 23-27 June 2003)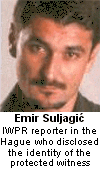 Allegations that the lawyer who defended Bosnian Croat general Tihomir Blaskic before The Hague tribunal may have leaked confidential evidence resurfaced at another hearing this week. Documents which Hague prosecutors handed to former Serbian president Slobodan Milosevic as evidence suggest that prominent Zagreb lawyer Ante Nobilo passed the Croatian leadership a secret statement that Stjepan Mesic - now president, but opposition leader at the time - gave during Blaskic's 1997 hearing.
Nobilo still represents Blaskic, who is appealing after being convicted on 19 counts of war crimes and crimes against humanity. He has consistently denied involvement in leaking the statement - in which Mesic accused the then Croatian leadership of complicity in atrocities in neighbouring Bosnia - since excerpts from it appeared in a newspaper back in November and December 2000.
The new documents consist of transcripts, including one which appears to be of a May 1997 meeting between the late Croatian president Franjo Tudjman, his chief of staff Goran Radin, defence minister Gojko Susak,
National Security Advisor Markica Rebic, and two newspaper editors.&nbsp (»)
This contains what purports to be a discussion on whether to publish Mesic's testimony, as a way of portraying the increasingly popular opposition politician as a traitor.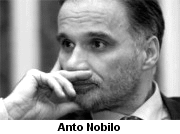 "I spoke to lawyer Nobilo. He does not oppose it - in fact,
he said it would be good to publish it - but we can't say that
he gave us the statement because he has to be discreet,"
one of the participants is reported as saying.
Tudjman, who habitually recorded all his meetings for posterity, told the newspaper editors, "Mr. Mesic has gone and testified that I should be summoned to the Hague tribunal. We want you to publish the document, but we also want to talk about it with you."
In a telephone interview, Nobilo told IWPR that these transcripts were inaccurate. "Those allegations were raised long ago. There is no truth in it," he said.
Under the rules of the tribunal, Mesic's statement was supposed to remain anonymous, with only the prosecution and defence knowing that he had testified. Whoever did release it was acting in contempt of court.
Tribunal spokesman James Landale said that such breaches were treated as a matter of great concern, "The tribunal takes any allegation of this sort very seriously, and with all allegations of this nature we have legal proceedings."
Although the transcripts - if true - confirm that the Croatian leadership got hold of Mesic's testimony, Tudjman's proposal to publish it in the press was not acted on at the time. Excerpts appeared much later - in November 2000 - in Slobodan Dalmacija, a Croatian newspaper with strong ties to Tudjman's right-wing Croatian Democratic Union, HDZ. This was widely perceived as a smear attempt against Mesic, who had just become president.
The Mesic statement was relevant in the Blaskic trial because the latter was in command of Bosnian Croat forces in central Bosnia. Many of the charges against him related to the 1993 massacre of Muslim civilians in the village of Ahmici. Tudjman always maintained that Zagreb had nothing to do with the actions of Bosnian Croat military forces. In 2000, at the end of a two-year trial, Blaskic was sentenced to 45 years jail.

Emir Suljagic
is an IWPR reporter in The Hague.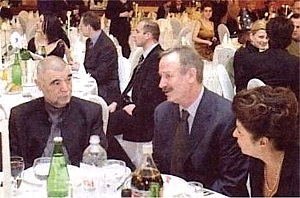 Please, stop "helping"
indicted journalists!

By Mario Profaca
October 7, 2005
Confused and incompetent Dragutin Lucic, president of irrelevant Croatian Journalists' Association (since no one of ICTY indicted Croatian journalists is a member of that, one of three journalists' professional associations in Croatia) keeps giving his Pythian "statements" referring to the case of Croatian journalists indicted with contempt of the Hague Tribunal. Lucic told

Croatian news agency Hina
he "discussed the Jovic case" with the undersecretary of the International Federation of Journalists, Oliver Money Kyrle, and that "he had notified" the federation's secretary-general, Aidan White, and the president of the European Federation of Journalists, Arne Koenig, "
asking them
to interpret the case" (?!). Dragutin Lucic today also told

Croatian Television
that "detaining journalists isn't good message,
no matter whether it was justified or not
." (?!). Yesterday Dragutin Lucic told

Vecernji list
newspaper "According to his
comprehensions
," (sic) "once extradited to the Hague Tribunal arrested journalist Josip Jovic will soon come back home
but he must apology to the court or pay the fine
(?!)".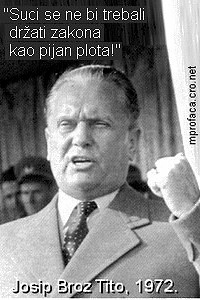 At the same time, Dragutin Lucic told Janet Anderson

IWPR
(Institute for War & Peace Reporting) project manger in The Hague that even though none of the "
individuals
" were members of his association, he still felt it was important to defend their rights as members of the press.
However, he "felt the issue here is not necessarily press freedom". Lucic also argues that "these people should go to The Hague to defend themselves". "They play like politicians not like journalists," said Lucic of the Croatian journalists' association to IWPR
, comparing the maneuvering to a political game. Interestingly, Pascal Bonnamour, president of

RSF
for Europe (Reporters without frontiers) in Paris, France - when showed her interest and concerns for indicted Croatian journalists, was "officially" informed from Zagreb that journalists in question were "
not journalists at all, but nationalists and Tudjmanists
".
Evidently, there are so many "individuals" including Dragutin Lucic in the Croatian Journalists' Association who should better stop "defending" indicted Croatian journalists as soon as possible. It would be also the biggest help for Josip Jovic who is now detained in Split prison waiting his extradition to the International Criminal Tribunal for (war crimes committed in) the Former Yugoslavia (ICTY).
Mario ProfacaCPJ, journalism and intelligence

By Mario Profaca
Lupus in fabula
Committee to Protect Journalists (CPJ)
Europe & Central Asia Program Coordinator


Aleksandar ("Alex") Lupis is an old friend of the ICTY Office of the Prosecutor where he worked for two years (1997-1998) as "researcher" after he came back from Bosnia.
He worked in Bosnia for 18 months conducting war crimes and human rights investigations for the OSCE in 1996-1997.
October 7, 2005
Aleksandar ("Alex") Lupis, Europe & Central Asia Program Coordinator, Committee to Protect Journalists (CPJ), has a decade of experience working on human rights and press freedom issues in the Balkans and former Soviet republics. But less known is that he worked two years (1997-98) with the ICTY Office of the Prosecutor as "researcher". Born somewhere near Dubrovnik, he speaks a language he calls "Serbo-Croatian", English and Russian. He worked in Bosnia for 18 months conducting war crimes and human rights investigations for the Vienna-based Organization for Security & Cooperation in Europe (OSCE) in 1996-97.
In February 2005 Aleksandar Lupis said to Vecernji list newspaper (Zagreb, Croatia):
"We are familiar with the newest events about

POA (counterintelligence agency)
and overhearing of journalists in Croatia. We got the information's that during 2003. and 2004. five journalists were tracked and accused for collaboration with foreign secret services. After the case of journalist Helena Puljiz, and this new affair, we conclude that some members of political elite still preserve old communist look on

independent journalism
, and with their behavior they confirm that independent journalists are threat" - with these words Alexandar Lupis, the counselor for Europe in Committee for journalists protection in New York, has confirmed for Vecernji list that in their American headquarters came

official report
about problems that Croatian journalists facing with.
The affair could slow down the enter of Croatia into EU, Aleksandar Lupis was cited as saying to Vecernji list these words so beloved by Carla Del Ponte
(Jadranka Juresko-Kero, Vecernji list, Zagreb).
Since

there were no confirmed reports whether these independent journalists were collaborating with foreign secret services or not
, all comments including this one from Aleksandar Lupis, were echoing same stereotype generally protecting journalists and journalism in general. Even HND, one of three organizations of professional journalists in Croatia, strongly condemning a failed attempt of Croatian intelligence to recruit journalist Helena Puljiz, didn't say a single word about possible

journalist recruitments by foreign intelligence agencies
, like American Society of Professional Journalists (SPJ) protested against recruiting CIA agents among (American) journalists and members of the clergy and NGO's.
As "Aleksandar Lupis has confirmed for Vecernji list that in their American headquarters came official report about problems that Croatian journalists facing with" so United Press International and The Washington Times reported about problems
British MI6 informants
(citizens-informants and confidential collaborators) were facing in Croatia. Writing about

Zeljko Peratovic
, one of five Croatian journalists under surveillance because of their alleged contacts with foreign intelligence agents, UPI / Washington Times wrote:
"The Croatian media are abuzz about the continued employment of a journalist reportedly outed as a MI6 (British overseas intelligence) agent and disinformation agent. Zeljko Peratovic writes for the journal Vjesnik. According to the media, Peratovic distributed -- and apparently still distributes -- disinformation on the whereabouts of Croatian Gen. Ante Gotovina to help avoid his capture." [...] "Despite being unmasked by the former head of Croatian counter-intelligence, Franjo Turek, Peratovic remains a journalist. Croatia's President Stjepan Mesic confirmed Peratovic's role in the Feral Tribune, issue no. 967, which stated that six journalists, including Gordan Malic of the Globus wire service, plus ex-police chief Ranko Ostojic and several British diplomats supplied misleading information to the Croatian public that Gotovina was in Croatia. Mesic's former national security aide, Zeljko Bagic, warned him MI6 spies and British intelligence had recruited a number of prominent journalists in Zagreb to plant disinformation about Gotovina in the Croatian media.

Peratovic's alleged erratic behavior was said to have caused his MI6 handlers some concern; several senior MI6 officials, according to the account, wanted him dropped immediately, but a local MI6 agent insisted that he be retained, describing him as "an imbecile ... but useful nevertheless"
(Source: John C.K. Daly and Martin Sieff, UPI, Washington Times).
Obviously, Aleksandar Lupis is familiar with this part of the story; In 2000 he was "working on a book" about investigating war crimes in Bosnia. Interestingly, one issue he discussed in the book was assessing / analyzing the national security / intelligence institutions, which is - just to use
his own words - "something human rights people generally stay away from
".
He was

Balkans policy analyst
at the
Soros Foundation's Open Society Institute
(OSI) in New York, a staff member of "Forced Migration Projects" (1998) and manager of the FMP's Legal Policy Task Force.
He was Special Assistant for South East Europe at the Open Society Institute in New York focusing on the Balkan Stability Pact.
I worked previously as a consultant to Human Rights Watch - Helsinki and as a Human Rights Officer with the OSCE Mission to Bosnia and Herzegovina in the towns of Capljina and Doboj.
I am currently conducting research, during my personal time, on developing a war crimes and human rights field investigation manual using case studies from the former S.F.R. Yugoslavia
. -

he wrote on October 23, 1999.
Lupis was also a consultant to Human Rights Watch (HRW) and the World Bank Institute (WBI).
He was one of over 180 participants at a Bosnian Conference, convened by the Office of Refugee Resettlement (ORR), held in Washington, DC, on November 12-13, 1999. A panel discussion titled "Bosnian Diaspora: What Do We Need to Know?" was held at the Carnegie Endowment for International Peace. Discussion was facilitated by Ms. Kathleen Newland of the Carnegie Endowment and had four panelists: Mr. Nedzib Sacirbej, Ambassador-at-Large of Bosnia and Herzegovina; Aleksandar Lupis, Soros Foundation; Harold Northrop, International Rescue Committee (IRC); and Catherine Schwering, U.S. Department of State. Mr. Lupis spoke about the Soros Foundation Lawyers' Project in Bosnia and human rights and democracy in general.
Lupis joined the Committee to Protect Journalists in September 2000. On July 18, 2001, on behalf of Committee to Protect Journalists (CPJ) Aleksandar Lupis testified before the joint hearing of the International Operations and Human Rights and Middle East and South Asia subcommittees of the House International Relations Committee about the state of press freedom in Central Asia.
A testimony was part of a hearing on "Silencing Central Asia: The Voices of Dissent," held to investigate the state of freedom and democracy in Central Asia.
According to

Beta news agency ("Who's charging journalists?"
, ANEM Weekly Media Update, April 5-12, 2005) Aleksandar Lupis has criticized Croatia and Serbia for imprisoning journalists. Speaking for Voice of America, Lupis said that these countries were in the group of rare European countries in which journalists could end up in prison for libel. "The process of decriminalization of libel has begun in the past decade. Some countries such as France still treat libel as a criminal act, but these provisions of the legislation are not practiced", said Lupis. "Few Southeast European countries have the provisions on libel in their criminal codes, but the courts seldom apply them. According to our records, during last year, such cases were recorded only in Croatia and Serbia", Lupis had stated.
On December 25 2002, when Russian environmental journalist Grigory Pasko was convicted for treason through espionage by the Pacific Fleet Court in Vladivostok, and taken into custody in court and placed in detention, the Committee to Protect Journalists (CPJ) called the verdict

an outrage
.
-- Today's ruling demonstrates that the trial of Grigory Pasko was nothing more than a political vendetta against a journalist who made public information that embarrassed the Russian military but served the public, its director, Joel Simpson said in a statement.
-- Pasko's detention is a black mark on the Russian justice system and further undermines President Putin's stated commitment to press freedom. (An outrageous decision, By Jon Gauslaa, 2002-01-03)
In October 2002 the US Congress is considering legislation that would attempt to counter efforts by repressive governments, including those in the Caucasus and Central Asia, to restrict public access to information. The measures focus on electronic media, noting that "unrestricted access to news and information on the internet is a check on repressive rule by authoritarian regimes around the world." Media watchdogs characterize the proposed US legislation as "helpful," but stress that laws would need accompanying support for journalists in order to advance freedom of expression in the Caucasus and Central Asia, and elsewhere. On October 2, United States Representatives Christopher Cox (R-California) and Tom Lantos (D-California) introduced the Global Internet Freedom Act, a bill aiming to frustrate foreign governments' efforts to censor Internet use. Jon Kyl (R-Arizona) and Ron Wyden (D-Oregon) introduced a companion bill in the Senate eight days later; both bills are sitting in committees while members of Congress campaign before November elections.
"This legislation will definitely be helpful in protecting the free flow of information," said

Aleksandar Lupis
, Europe and Central Asia program coordinator for the Committee to Protect Journalists. "But it shouldn't replace or lessen US support for independent journalists because unless they feel safe they won't publish critical information on the Web."
But in the case of

five Croatian journalists indicted by the ICTY
for contempt of the court, when ICTY already released arrest warrant for one of them, Aleksandar Lupis and CPJ were silently "monitoring this ICTY case". To Mr. Lupis "One crucial issue here is that it is not yet clear what kind of penalty the prosecutors or judges are seeking against the journalists. Seeking some sort of financial penalty is how such conflicts are handled in Western courts. But if the prosecutors or judges seek a prison sentence, it would make it an entirely different case."
Oddly enough, to Mr. Lupis and CPJ it's not quostionable at all whether The International Criminal Tribunal for (war crimes commited in) Former Yugoslavia is entitled to try journalists or not; As he wrote to me - "We are trying to get more information from the Tribunal about the kind of penalty they are seeking and hope they will be more forthcoming. That information will help clarify the status of this case".
After I asked Mr. Lupis how come that CPJ had nothing about it at its official web site, though Croatian journalist Josip Jovic was arrested, detained and waiting in prison for his extradiction to the Hague, CPJ on October 7, 2005, finally released its "Alert":
"Court-imposed gag orders on news organizations are very troubling, and there are unanswered questions about the Tribunal's actions,"

CPJ Executive Director Ann Cooper
said. "For example, it's puzzling why the Tribunal would take legal action against journalists for revealing information that the Tribunal itself has made publicly available. We are closely monitoring how the Tribunal handles these cases."
Mario Profaca
*) Grigory Pasko was arrested in November 1997 and acquitted by the Pacific Fleet Court in July 1999 of treason charges, but found guilty of abuse of office. He appealed the verdict seeking a full acquittal, but so did the prosecution insisting he was a spy. Russia's Military Supreme Court cancelled the verdict and sent the case back to a re-trial in November 2000. The re-trial started on July 11, 2001 and ended on December 25, with Pasko being acquitted on nine out of ten charges, but still sentenced to four years. Both sides have appealed the verdict. It may take many months before the appeal case will be heard.
Bibliography:
Aleksandar Lupis' works in the intelligence and security field:

Assessing the Mandate of the OSCE Kosovo Verification Mission Proposed at Rambouillet:
An Insider's Perspective from the OSCE Mission to Bosnia and Herzegovina
By Alexander Lupis, April 1999.
This paper was subsequently updated and published in Helsinki Monitor 1999 no. 3