Report of the U.S. Senate
Select Committee on Intelligence
January 4, 1995 to October 3, 1996
The Committee's staff reviewed substantial material provided by the CIA and the NSA and smaller, but significant, amounts of material provided by the Department of State and Department of Defense (including finished intelligence products of the Defense Intelligence Agency), as well as some National Security Council (NSC) documents. The Chairman and Vice Chairman were also briefed by NSC staff personnel on some documents that the Executive branch refused to show to Committee staff.
On November 7, 1996, the Committee issued a public report summarizing its findings and recommendations in this matter. The report's findings included the following:
The decision to let Croatia transship Iranian and other arms to the Bosnian Muslims was made by the President and was implemented largely by Department of State and NSC personnel. Unusual steps were taken to keep this action secret, such as refraining from filing cables on it or from mentioning it at NSC meetings. These steps kept knowledge of this significant policy change from other agencies, including the Department of Defense and the CIA.

Although the executive branch did inform appropriate committees of intelligence information on the arms flows, it did not inform Congress of the decision to let Croatia transship Iranian and other arms to the Bosnian Muslims. This action left Congress dangerously ignorant of U.S. policy, even as it debated and voted on legislation regarding enforcement of the arms embargo.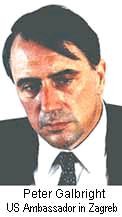 CIA officials became attentive to actions that might constitute an illegal covert action activity, which CIA personnel feared was under way. CIA's concerns may have been overwrought, but so are the allegations that CIA was ``spying on'' Department of State personnel. Much confusion might have been averted if Deputy Secretary Talbott or other State Department officials had adequately explained to DCI Woolsey the new policy and their intent that Iranian arms be permitted to flow to Bosnia and Croatia. It would also have helped if State Department Headquarters had provided clearer instructions to Ambassador Galbraith.

The decision to let Croatia transship Iranian and other arms to the Bosnian Muslims achieved its purpose of affecting the balance of forces in the former Yugoslavia without prompting European actions that the United States had feared would breed a wider and bloodier war. But Iran maintained and probably increased its influence in Bosnia as a result of its resumed role as Bosnia's major arms supplier. In addition, Croatian officials for a time found it hard to reconcile U.S. support of Iranian arms flows to Bosnia with continued U.S. support for other United Nations arms embargoes (such as that against Libya) and opposition to Iranian support for terrorism.

Ambassador Redman may not have intervened with Croatian officials to secure release of a Bosnian convoy in May 1994, contrary to the IOB's conclusion that he probably did so.

Executive branch personnel in senior overseas positions did not always understand the law and regulations governing covert action programs. Covert action options were prepared by Executive branch agencies in 1994 and 1995, but no covert action program for Bosnia was approved by the Executive branch. CIA consistently opposed undertaking such a program.

Some Executive branch officials made statements to Bosnian and/or Croatian officials in the summer and fall of 1994 that suggested support for increased covert shipments of arms to the Bosnian Muslims. The Committee could not determine whether U.S. officials offered either support in implementing a larger arms pipeline or a quid pro quo to Croatia for agreeing to such increased arms shipments. The Committee found no evidence that the United States ever provided such support or any quid pro quo to Croatia, or encouraged any country other than Croatia to provide arms or military assistance in violation of the arms embargo.

In early 1995, one U.S. official told a Croatian official that the United States did not want Croatia to discontinue a military resupply effort in Bosnia. In the summer of 1995, U.S. personnel inspected rockets bound for Bosnia; the Committee could not determine whether this activity was undertaken for the purpose of encouraging Croatia to continue the covert arms shipments.

The Committee could not agree on whether the actions of U.S. officials constituted covert action under section 503(e) of the National Security Act of 1947. It did conclude, however, that the interchange between the United States Ambassador to Croatia and the President of Croatia in April 1994 did not constitute traditional diplomatic activity, at least as that term is understood by most Americans. The Committee disagreed, moreover, with the Executive branch view that diplomatic requests to third parties to conduct covert action are not covered by the definition of covert action. It also noted that any encouragement of promotion of arms shipments to Bosnia could violate Executive Order 12846, 58 FR 25771 (April 25, 1993) on sanctions against the former Yugoslavia. Allegations regarding U.S. military or CIA involvement in the arms flow or in logistical support to the Bosnian Army appear to be false. The Committee found three areas in which administrative or legislative actions appear to be required:

Recommendation No. 1: The Executive branch, especially the White House and the Department of State, should make a written record of every significant foreign policy decision, and especially of those decisions that reflect a change in policy; and it should ensure that adequate mechanisms are in place to generate and protect communications that are particularly sensitive.

Recommendation No. 2: The Executive branch should keep the Committee ``fully and currently informed'' of the substantive content of intelligence that is collected or analyzed by U.S. intelligence agencies. Recommendation No. 3: The Executive branch should inform Congress of significant secret changes in U.S. foreign policy.
(Full text of this Report)