The Role of Foreign Fighters
in the Iraqi Jihad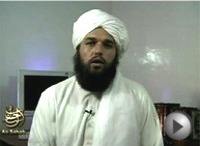 Al-Qaida terrorist
has Jewish roots
Jerusalem Post | September 4 2006
A man who starred in a video released by al-Qaida's deputy leader Ayman al-Zawahri on Saturday, inviting Americans to convert to Islam, has been identified as Adam Yehiye Gadahn, an American with Jewish ancestry.
According to Wikipedia, he was born Adam Pearlman on September 1, 1978, the grandson of a prominent Jewish surgeon and the son of musician Phil Pearlman, who converted to Christianity and changed his named to Gadahn (apparently derived from the Biblical figure Gideon.) He grew up in Santa Ana, California, converted to Islam and, in 1995, posted an essay on the USC Web site describing his conversion. According to his parents, Gadahn moved to Pakistan in 1998, where he married an Afghani refugee.
The FBI believes he attended al-Qaida training camps in Pakistan and served as an al-Qaida translator and English spokesman.
It was the second time Gadahn has appeared in the same video with Zawahri. In a

July 7 video
marking the one-year anniversary of bombings against the London transit system, Gadahn said no Muslim should "shed tears" for Westerners killed by al-Qaida attacks.

American Al-Qaeda Propagandist
Charged with Treason
By IBNlive.com With AP inputs, October 12, 2006
WASHINGTON (AFP) - An American convert to Islam who appears in Al-Qaeda propaganda videos was indicted for treason by a US grand jury, the first person hit with the charge since the World War II era.
Adam Gadahn, also known as Azzam al-Amriki and Azzam the American, was indicted by a federal grand jury in Santa Ana, California for treason and supporting a terrorist organization, the US Justice Department announced.
"A charge of treason is exceptionally severe, and it is not one we bring lightly," said Deputy US Attorney General Paul McNulty. "But this is the right case for this charge," McNulty said. The treason charge brings a minimum five years in prison and a maximum penalty of death.
Gadahn, 28, a native of southern California, has appeared in several videotapes for Al-Qaeda since 2004, praising the September 11, 2001 attacks on the United States. In October that year, he appeared on a 75-minute video threatening new terror assaults.
"Allah willing, the streets of America will run red with blood, matching drop for drop the blood of America's victims," he said on the video.
In a video that came out in September last year, he called the 2001 attacks "the blessed raids on New York and Washington" and, noting attacks carried out on Madrid and London, suggested that Los Angeles and Melbourne, Australia were future targets. In the latest tape, broadcast last month on the fifth anniversary of the September 11 attacks, Gadahn praised the men who carried out the attacks while calling on US soldiers to abandon the US army "and join the winning side".
McNulty said Gadahn's support for the "propaganda machine" of Al-Qaeda merited the treason charge, which he called "perhaps the most serious offense for which any person can be tried under our constitution."
"Terrorists create fear and intimidation through extreme violence. They want Americans to live and walk in fear. They want to demoralize us. That's why propaganda is so important to them, and why facilitating that propaganda is such an egregious crime," McNulty said. McNulty said Gadahn, whose last known address was in Orange County, California, is believed to be hiding in Pakistan.
"Adam Gadahn is a US citizen who made a choice to join and act as a propagandist for Al-Qaeda, an enemy of this country responsible for the horrific deaths of thousands of innocent Americans on September 11, 2001," he said. Senior FBI official Willie Hulon said Gadahn was added to the Federal Bureau of Investigation's list of most wanted terrorists with the release of the indictment Wednesday.
"Adam Gadahn represents a new breed of home-grown extremist, who has chosen to betray the country of his birth and align with the Al-Qaeda terrorist network," Hulon said. Meanwhile a one million dollar reward for his capture is being offered by the US State Department.
"There would be no good justification to delay this indictment when we have seen the building nature of these videos (and) the fact that we have the award now," said McNulty.
Gadahn is a native of Orange County in southern California, the son of a 1960s Jewish rock musician who converted to Christianity and became a rural goat farmer. Relatives said he was a normal teenager, a big fan of heavy metal rock music, before he announced his own conversion at 17 and began attending an Islamic center where he is believed to have come under the influence of two foreign-born Islamic radicals. "I discovered the beliefs and practices of this religion fit my personal theology and intellect as well as basic human logic," he wrote on a website. Gadahn is believed to have left California for Karachi in 1998, and gradually fell out of contact with relatives in the US.

Treason charge for U.S. Qaeda
AP, October 12, 2006
LOS ANGELES - The charge of treason was used for the first time in the war on terrorism yesterday - filed against a California man who appeared in propaganda videos for al Qaeda. Adam Yehiye Gadahn, 28, could be sentenced to death if convicted of the charge, which has been used only a few dozen times in U.S. history and not at all since the World War II era. He also was indicted on a charge of providing material support to terrorists.
Gadahn "knowingly adhered to an enemy of the United States, namely, al Qaeda, and gave al Qaeda aid and comfort," says the indictment by an Orange County grand jury. The al Qaeda operative has been sought by the FBI since 2004. There is now a $1 million reward for information leading to his arrest or Gadahn, a convert to Islam who is believed to be in or near Pakistan, attended al Qaeda training camps and served as one of its translators. His nom de guerre is Azzam al-Amriki, or "Azzam the American." Gadahn appeared last month in a 48-minute video along with al Qaeda's No. 2 leader, Ayman al-Zawahiri, calling on his countrymen to convert to Islam and for U.S. soldiers to switch sides.

American appears in al-Qaeda tape
By IBNlive.com With AP inputs
Sunday September 3, 2006
Cairo, Egypt: Al-Qaeda second in command,

Ayman al-Zawahiri
, has released a new video tape. The video has been posted on an Islamic website, just days before the 5th anniversary of the September 11th terror attack on the World Trade Centre. The video also features

Adam Gadahn
, an American convert, who is wanted by the FBI for his links with the al-Qaeda. In the tape Gadahn has urged non-Muslims - especially in the US - to convert to Islam.

The video
, issued by al-Qaeda's production wing

Al-Sahab
, had been advertised on militant websites for several days before it appeared on Saturday.
It was the second time Gadahn appeared in the same video with al-Zawahiri. In a July seven video marking the one-year anniversary of the terror attack on London commuters, Gadahn appeared briefly, saying no Muslim should 'shed tears' for Westerners killed by al-Qaeda attacks.
But Saturday's video - and the length of Gadahn's speech - suggested al-Qaeda has found in him someone it believes can communicate effectively with Americans. Gadahn spoke for nearly the entire video, wearing a white robe and a white turban, sitting in front of a desk with a computer and Islamic religious books in a room with a white wall.
The video included no direct threats of terror attacks.
Gadahn delivered a lecture on Islam and the 'errors' in Christianity and Judaism. He also said the US is losing the wars in Iraq and Afghanistan and told US soldiers they are fighting President

George W Bush's ''crusades.''
''Instead of killing yourself for Bush ... why not surrender to the truth (of Islam), escape from the unbelieving army and join the winning side. Time is running out so make the right choice before it's too late,'' he said.
Al-Zawahiri gave only a brief introduction to the video, calling on Americans to convert to Islam.
''To the American people and the people of the West in general ... God sent his Prophet Muhammad with guidance and the religion of truth ... and sent him as a herald,'' he said.
The CIA said it had conducted a technical review on the videotape and concluded the voice is al-Zawahri's. A CIA spokeswoman said the agency is not authorized to conduct such analysis on US citizens such as Gadahn.
White House spokeswoman Christie Parell said the message reflects al-Qaeda's ''continued attempts to subjugate the world under its twisted view of Islam, which labels as enemies and infidels those who do not have the same beliefs.''
Little is known about Gadahn's role in al-Qaeda. A Californian who converted to Islam, he disappeared soon after the September 11 attacks. In 2004, the FBI announced it was seeking Gadahn in connection with possible terrorist threats against the US, but adding it did not have information linking him to any specific terror activities.