USNews: Mexican massacre highlights drug corruption
U.S.News & World Report, (9/28/98)



CPJ Killed journalists Index
The following is a list of journalists killed in 1998 as of July 1. CPJ updates and reviews this list throughout the year, and publishes a comprehensive list at year's end. Whenever CPJ receives word that a journalist has been killed, the region's program coordinator investigates whether the journalist's murder was indeed a manifestation of the most vicious form of censorship.



The press takes on dreaded drug lords in Mexico
The Indian Express Latest News



Zedillo's observations and warnings
During his last working tour through Chiapas, Zedillo made some observations and warnings. He made some things clear, reaffirmed others and showed why he is the head of state.
The News México City, May 4, 1998. By Jose Antonio O'Farrill Avila



Mexican drug czar: cartel "wounded,"will not recover
Violence over for now; Police seek arrest of cartel leaders
by Jeff Barnet, Staff Writer After thirty days without any drug-related violence in Ciudad Juárez, Mexican drug policy chief Mariano Herran Salvatti claimed March 20 that the cartel de Juárez is "practically dismembered"and would never recover the...



Jury to get 'Mexican Mafia' case
Los Angeles (CNN) -- The trial of 13 alleged members of the "Mexican Mafia" is expected to go to a federal jury in Los Angeles on Friday after closing arguments are completed. The defendants are charged with racketeering, attempted murder, drug sales, conspiracy and extortion. ...
- May 16, 1997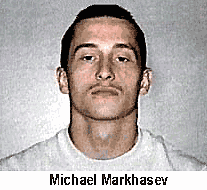 Juror names won't be secret in
Cosby slaying case

Prosecutor: Accused killer
linked to gang

More CNN stories
related to Mexican Mafia
SANTA MONICA, California (CNN) -- A prosecutor in the Ennis Cosby slaying case said Tuesday that jurors' names should be kept secret to protect them because the Ukrainian immigrant charged with the crime is a member of the Mexican mafia.
Superior Court Judge David Perez rejected prosecutor Anne Ingalls' bid for secrecy. He said California law requires jurors' names to be public unless there is a compelling reason to keep them secret.
Ingalls suggested that jurors could be in danger of retaliation from supporters of Michael Markhasev, who is charged with killing the son of comedian Bill Cosby. "My information is that he is a 'made' member of the Mexican mafia," Ingalls said of the 19-year-old Markhasev. "We are concerned about that."
A "made" member is one who is formally initiated into a gang. Markhasev's lawyer, Henry Hall, protested Ingalls' remarks, saying, "That's the biggest bunch of nonsense I've heard." However, he agreed that jurors should remain anonymous. (full text)
Related CNN stories:

Ennis Cosby murder trial enters new phase
- June 16, 1998


Judge in Cosby case OKs use of defendant's letters
- April 30, 1998


Trial date set in Cosby killing case
- November 18, 1997


No date yet for Cosby murder suspect's trial
- August 4, 1997


Prosecutors won't seek death penalty in Cosby case
- May 30, 1997


Cosby slaying suspect pleads innocent
- May 13, 1997


Reports: Cosby suspect has alibi
- May 2, 1997


Suspect in Cosby killing gets public defenders
- May 1, 1997


Judge imposes 'gag order' in Cosby murder case
- April 18, 1997





Newspaperman's Book Exposes the Dark Side of Tijuana

Gunman Who Attacked Mexican Editor is Identified

After Murder Attempt, Tijuana Editor is Unbowed

An Old Killing Reverberates in Mexico

Mexican Drug Lords Thrive at San Diego's Doorstep

Accuser of Top Generals Slain in Mexico

Honeymoon for Mayor in Mexico City Lasts 3 Days

Scandals Raise Question: How Serious is Mexico About Reform?

Arrest of Mexican Drug Czar Raises Troubling Questions

Magazine Cites U.S. Documents Linking Salinas to Drug Trade

Mexicans Reel in Aftermath of Killings

LatinoLink News Archive

Federal jury convicts 12 suspected Mexican Mafia members
Los Angeles (CNN) -- Twelve purported members of the Mexican Mafia, accused of running a drug and crime ring from jail cells, were convicted by a federal jury Friday on conspiracy and other counts. A 13th man was acquitted. The men were tried under a 29-count indictment that ... - May 30, 1997



Mexico Launches Crackdown on Organized Crime
Fox News Aug 5 1997



Slain gunman a top killer for Tijuana cartel
Police also link him to California gang By Sandra Dibble and Gregory Gross San Diego Union Tribune staff writers
November 29, 1997



Police target drug cartel
Country: MEXICO Date of Incident: 11/17/96 11/18/96 Reuters reports that Mexican police are turning up the heat on the Arellano Felix organization.



SHADOW #41 Mexico drug war report
Narcoregime in Deep Crisis
But Washington Still Underwrites Militarization
By Bill Weinberg
The fall of Mexico's Drug Czar is but the latest development in the wholesale takeover of the Mexican state by the drug cartels. The selfimplosion of the Mexican elite in a string of bloody narcovendettas reaches the highest levels of power. Yet Washington keeps pouring your taxdollars into the regimeto fight drug traffickers! ...Or to prop up NAFTA and suppress revolutionaries? On February 18, the Mexican Defense Ministry announced that Brig. Gen. Jesus Guti?rrez Rebollo, Mexico's top military Drug War pointman, had been arrested on charges of receiving payoffs from Juarez Cartel kingpin Amado Carrillo Fuentes (aka the "Lord of the Skies"). US Drug Czar Gen. Barry McCaffrey had weeks earlier called Gen. Gutierrez "a guy of absolute unquestioned integrity." The Clinton Administration admitted that Gen. Gutierrez, as head of the National Institute to Combat Drugs, had received highlevel intelligence briefings in the US.
(full text)



About The Mexican Mafia
The author's advice on living a positive lifestyle.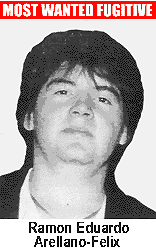 $50,000 REWARD
The FBI is offering up to $50,000 for information leading to the apprehension of Ramon Eduardo Arellano-Felix.
Aliases: Gilberto Camacho Rodriguez, Ramon Torres Mendez, El Comandante Mon, El Walin, Ray
Ramon Eduardo Arellano-Felix (Weight: 220 pounds Race: White, Hispanic) is armed and extremely dangerous. He has been charged in a sealed indictment in U.S. District Court, Southern District of California, with Conspiracy to Import Cocaine and Marijuana.
Ramon Eduardo Arellano-Felix is believed to be one of the leaders of the Arellano-Felix Organization (AFO), which is also known as the Tijuana Cartel. The AFO is a drug gang known for their large distributions of controlled substances and propensity for violence in enforcement of the operation.
Page at this site with the same name:

Ramon Eduardo Arellano-Felix
Bureau of diplomatic security, United States Department of State Reward Offer for FBI Fugitive Ramon Eduardo Arellano-Felix Press
Statement by James B. Foley / Deputy Spokesman, September 24, 1997 Today, the Director of the Federal Bureau of Investigation, Louis Freeh, and the Director of the Drug Enforcement Administration, Thomas Constantine, announced the addition of RAMON EDUARDO...



Border Traffic: The Drug Trade from Mexico
Organized Crime Ismael Vargas holds a photo of ...
Washingtonpost.com



Fighting-Images.Com
Gary Sloan's web site



El cártel de Tijuana, principal mafia del país
El cártel de Tijuana, principal mafia del país Ciro Pérez Silva y Roberto Garduño Espinosa ¤ Para las autoridades ...
La Jornada 15 de marzo de 1996



The Mexican Cartels: A Challenge for the 21st Century
In Brief Book Essay Volume 12 Numbers 1&2 Page 2. The Mexican Cartels: A Challenge for the 21st Century The Juarez cartel - This cartel was run by a former Mexican federal police commander, Rafael Aguilar, and Amado Carrillo Fuentes.



Zedillo's Choice

Tijuana - V
Once again my visit to Tijuana started at the northern terminus of the San Diego Trolley, Old Town Station, studying the high clouds while waiting for a friend. The day was comfortable, partially sunny, without much breeze.



Bleeding border: Mexico's drug gangs bribe or kill
An inferno next door . Mexico's drug gangs buy the officials they can--and kill those they can't . BY LINDA ROBINSON On January 3, Hodin Gutiérrez, a crusading, ...
U.S. News 02/24/97



Mexican buys newspaper ad to deny he is a drug lord
Mexico City - The man who Mexican newspapers say has taken over one of the country's most powerful drug cartels has gone to unusual lengths to dispute the allegation: a public letter to the president. ( by Associated Press, The Seattle Times, Dec 10, 1997)




Tuna drugs Mexico
Earth Island Journal, Spring 1997 - When Earth Island filed suit to block the import of "dolphin unsafe"tuna, we had no idea that this would put us at odds with Central America's cocaine and heroin traffickers.



Close-up: Tijuana border area has become gangs'
The Seattle Times, Top Stories, Oct. 25, 1996



Latin drug war Update
By Bill Weinberg - Peasant and Indian resistance to the Washington-mandated anti-drug militarization of Colombia and Mexico--the top producer and transporter of cocaine, respectively--is growing fast.



Cyberinformation - Extraordinary Data esource on conspiracies, paranormal
barry cyber-information.com



HeraldLink: Gunmen execute 3 families in Mexico

Trouble in the Land ...
Deep in Mexico's Sierra Madre, Tarahumara Indians are being murdered and their ancient forest destroyed by drug lords and loggers. A report from the Mother Range, where the pistoleros rule, the natives live in terror, and a fragile culture and the continent's richest wilderness are hanging in the balance.
Outside magazine, March 1995: Features



The Fall and Rise of the Drug Cartels
Washington Post Outlook With Colombia's Kingpins Nabbed, America Faces More Elusive Targets in Mexico.
Washington Post, 17 Sept 1995



Fresh Battalions
Mexico's new U.S.-trained antidrug agents are getting ready for action against their superviolent for.
BY TIM PADGETT/Tijuana



Anti-Drug Journalists and 8th Drug Prosecutor Murdered
January 1997. - On December 5 in Mexico City, police discovered the bodies of two journalists and their three children, aged 8, 13 and 18.



Digital I O Home Page
San Diego-based web site



Zedillo's Choice
Mexico's president must choose: accommodate the drug lords who control the government or reform the system--and risk his own life. by Holly Lloyd, as published in Mother Jones The drug lords in Mexico may have been even more successful than the Italian Cosa Nostra or the Russian mafia--they are taking over the highest echelons of their country's legitimate government.



U.S. fights half-war on drugs
-- by Georgie Anne Geyer, Universal Press Syndicate's Opinion Page



RMHI- Stop FDA attempts to restrict availability of herbs
The Food and Drug Administration (FDA) persists in attempting to restrict the availability of herbal products by regulations, in spite of public outrage.